San Jose Expert Locksmith - Professional Locksmith San Jose, CA
408-876-6189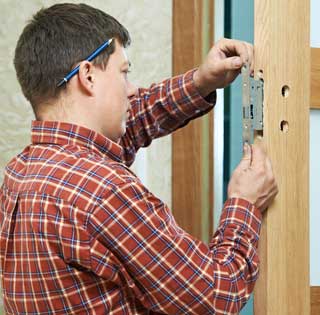 Modern day lock systems are quite in contrast to those deployed in ancient times. While the conventional mechanical variants are still prevalent in the market, there are also more sophisticated variants that are built to withstand external manipulation and any break-in attempts. Thus, along with the locks, the job profile of a locksmith has also undergone a drastic transformation. Basic technical knowledge no longer suffices to meet today's demands, as locksmiths are now expected to hold in-depth knowledge, have vast knowhow, portray superior workmanship, have advanced mathematical and analytical skills and more. Finding competent locksmiths is always a daunting task, but not if you live in San Jose, CA area. Find the best men for the job at San Jose Expert Locksmith.
We are a premier locksmithing agency and have been in the industry for years. Our profound industry experience has only strengthened our bases and enabled us to evolve continuously to keep pace with the rising customer expectations. Right from our technicians to our infrastructure, we strive to keep ourselves updated and in sync with the latest advancements in the locksmithing industry. Our commitment to delivering the best services, affordability and 24/7 availability has made us the community's go-to locksmith.
Trained and seasoned locksmiths:
Each one of our team members is picked through a careful selection process, where their educational background, relevant experience, certifications, skills and their technical knowhow are tested. After we handpick the best men for the job, we further enhance their skillset by exposing them to rigorous training sessions, hands-on exposure, workshops, seminars, conferences and more, so that they are capable of meeting the demanding needs of consumers. We also have established a strict code of ethics that all our technicians are expected to abide by. This ensures that they uphold integrity, confidentiality and privacy of clients in the execution of their duties.
Comprehensive range of services:
At San Jose Expert Locksmith, we believe in providing an all-inclusive range of services that will entitle you to receive an entire spectrum of locksmithing services under one roof. We provide:
A wide range of locks : We've teamed up with top international manufacturers and have procured the best quality locks for your property. From Grade 1 locks for your commercial property to simpler locks for your mailbox, we've got it all.
Rekeying service : Lost your keys? Do you suspect someone has stolen them? Don't discard your locks for we can rekey them at a cost-effective price and provide a new set of keys.
Key cutting : From high-security keys to transponder keys to standard variants, we've got the latest, cutting-edge key cutting machinery and computerized equipment to precision-craft just about any key.
Security consultation : Are you worried about the current state of your security? We provide consultations that will enlighten you of the same and suggest measures for improvement.
Lockout assistance : Locked out of your car or home? Our experts can help you regain access in no time at all. Our unlock solutions are damage-free and available 24/7.
All types of locks repaired : Locks get worn down with time, but a regular tune-up can fix them and restore them to normalcy. Be it physical damage or wear and tear, we can repair locks in any condition.
Eviction services : Have you evicted a tenant from your property? If so, you need to upgrade your security right away. Our eviction service handles rekeying/replacement of all the locks in your property.
Automotive locksmithing : Locks & keys can also be found in vehicles, and as such, require expert handling. Our locksmiths can make car keys, fix ignition problems, unlock locked trunks and more.
We offer all this and a lot more. For more details, you can always get in touch with our representatives.
Quick response time and serviceability:
When you require a locksmith's assistance at once or are looking for someone to bail you out of an unprecedented emergency, you need to get in touch with a reliable, competent locksmith right away. We offer one of the fastest response times in the region, because we know how every passing moment only adds on to your woes. Once we receive your call, the dispatcher will then direct the request to a mobile van nearest to your location which will reach you in less than 15-20 minutes, no matter where you are in and around San Jose. All our vans are loaded with cutting-edge equipment, the latest locks, key blanks, spares, and other components that enable us to do the job onsite.
San Jose Expert Locksmith is a renowned firm that provides comprehensive automotive, residential, commercial and emergency locksmith services. The firm commenced operations decades ago and from humble beginnings, it has now grown to a massive scale offering a wide range of solutions across various sectors. Today, the firm boasts of a huge client base that include prominent businesses, industries, commercial spaces and a majority of the residents in San Jose, CA area. The fame and success garnered over the years did not come easy. It took dedication, a zest for the profession, commitment to serve the community and a relentless drive to better ourselves in every aspect to get where we are today. Our teams of professional locksmiths have worked tirelessly towards our goal of providing 100% customer satisfaction and ensuring provision of superior levels of service. From the men we hire, to the products we sell to the tools we use, we strive to attain perfection in everything. Beyond doubt, the success that followed was evident.
Why should you trust us?
We're always available : You might run into a lock & key emergency at any time – and during those critical moments, you need someone to help you. You can schedule an appointment beforehand or even hire us at a moment's notice. We're available 24/7, on all days.
We have very high standards: When you hire us, you can expect to receive only the best levels of service. Shoddy work, poor-quality products or incompetency is something you'll never have to deal with when you've hired us for the job
Affordable pricing scheme: Unlike others, we believe in offering value-for-money services i.e. our customers only pay a baseline fee for the services. There are no hidden costs involved and we always provide upfront prices to ensure that work commences after we've reached a mutual agreement.
Doorstep services provided: You won't have to go the distance to get a lock fixed or a key duplicated. Call us and we'll arrive at your location. Being a mobile service, we can reach all areas in San Jose, CA and provide doorstep solutions at no added convenience fees.
Why settle for less, when you can hire the best? Get in touch with San Jose Expert Locksmith today for all your locksmithing needs.
We Provide Professional Locksmith in the following zip codes.
95101, 95103, 95106, 95108, 95109, 95110, 95111, 95112, 95113, 95115, 95116, 95117, 95118, 95119, 95120, 95121, 95122, 95123, 95124, 95125, 95126, 95127, 95128, 95129, 95130, 95131, 95132, 95133, 95134, 95135, 95136, 95138, 95139, 95141, 95148, 95150, 95151, 95152, 95153, 95154, 95155, 95156, 95157, 95158, 95159, 95160, 95161, 95164, 95170, 95172, 95173, 95190, 95191, 95192, 95193, 95194, 95196, 95140